In summer, when nature itself dresses up in bright colors, striking us with the beauty of peonies, violets, cornflowers, in the wardrobe you want to have something bright. A lilac dress of simple classical form will surely become your favorite, because in it you can go to work, for a holiday, to the cinema and to visit. It is only necessary to select accessories that match the occasion.
Size 46. 
To knit a dress, you will need: 600 g of fine synthetic yarn of lilac color; hook number 1.5. 
Knitting density: 32 p. X 13 p. = 10 x 10 cm. 
Make a pattern of dress details in full size (Fig. 26). Begin work by doing the front (Diagram 26) from bottom to top.
The scheme reproduces one of the six vertical stripes, taking into account the necessary reductions and additions. When performing 121 rows, start forming the armhole, then continue knitting with the fillet pattern (pattern 26b from the 2nd to the 6th row), making the necessary reductions and regularly checking the dimensions of the product with the pattern. Next, knit the straps according to pattern 26a and continue on cx. 26b (from the 2nd to the 6th rows, forming the shoulder bevels). Knit the back in the same way, but instead of the straps, do the flirt according to pattern 26b and, repeating the pattern from the 7th to the 12th rows twice, go to the fillet "chessboard" (2nd to 6th rows), forming the neckline cut line. Sew shoulder and side seams. Tie the bottom of the dress with a frill according to the scheme 26c, and the armholes and neckline with two rows of sc and "crusty step".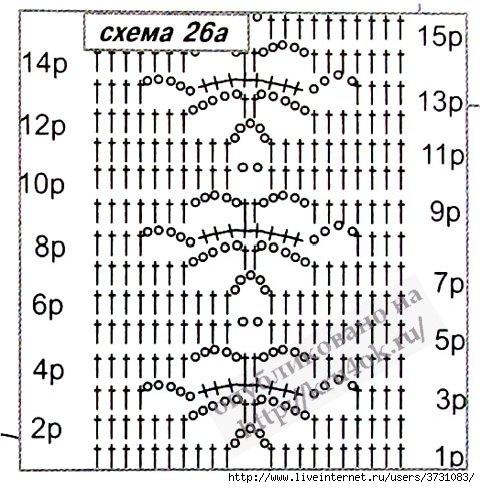 Categories: Knitting Summer Dress Patterns