I present to your attention a master class on knitting a small snail.
Such a snail turns out to be a small size and may well become a keychain, or a magnet, or a keychain into a car, and, in general, you can still come up with a lot of ideas for such a crumb. This master-class for beginners will knit, who have already mastered the basic loops and begin to knit simple toys. There are a lot of pictures in the master class, and I tried to describe everything as easily as possible. Pleasant crochet and light loops!
For knitting we need:
– yarn Yarn Art Jeans of four colors (blue, light green, pink, gray);
– hook number 2.0;
– filler;
– 2 beads or beads for eyes;
– a thread for sewing parts, as well as a thread for decorating the mouth and sewing the eyes;
– a needle;
– a small piece of a thick thread (for example, waxed, sold in shops for needlework, or any other, but it must be thick) for the design of ear-horns.
Loops that are used in this master class, and which you need to know to tie a snail:
– sbn – a column without a crochet;
– Вп – the air loop;
– уб – reduction;
– pr – increase.
That's all we need, as well as of course still a good mood and a desire to create!
So, come on! Let's start with knitting "armor". To do this, we first take the hook and the blue thread.
We do not forget to fill the armor with the knitting.
1 row: we sew two air loops (in), the second from the hook loop we fasten six columns without a crochet (sb) = 6 sbn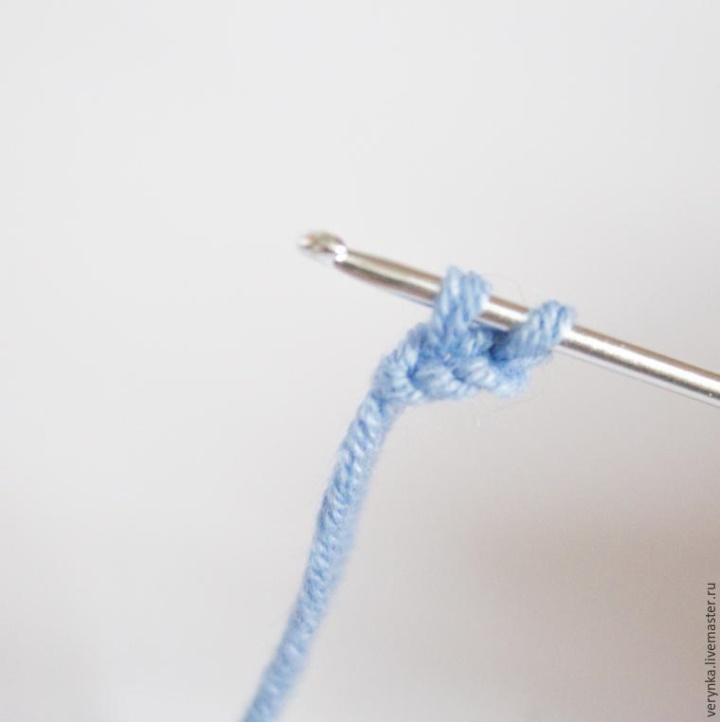 2-9 rows: we knit smoothly, without increments, in a spiral (that is, without connecting posts at the end of each row!) – 6 sb.
10 series: in this row we change the color of the thread to a light green. We knit six increases (pr) = the total we will get 12 sb.
11-18 rows: we knit exactly 12 sb.
19 row: in this row again change the color of the thread to pink. We knit so (1 sb, 1 pr) we repeat 6 times = the total we will receive 18 sb.
20-27 rows: knit exactly 18 cb.
At this moment we fix the thread, cut it and fill the tip.
And while we lay the armor aside.
Next, let's start knitting a calf. We knit with a gray thread.
1 row: 2 in, 6 sb in the second from the hook loop = 6 sb
2 series: (2 sb, 1 pr) repeat 2 times = 8 sb
3 rd: (3 sb, 1 pr) repeat 2 times = 10 sb
4- 15 rows: knit exactly 10 sbn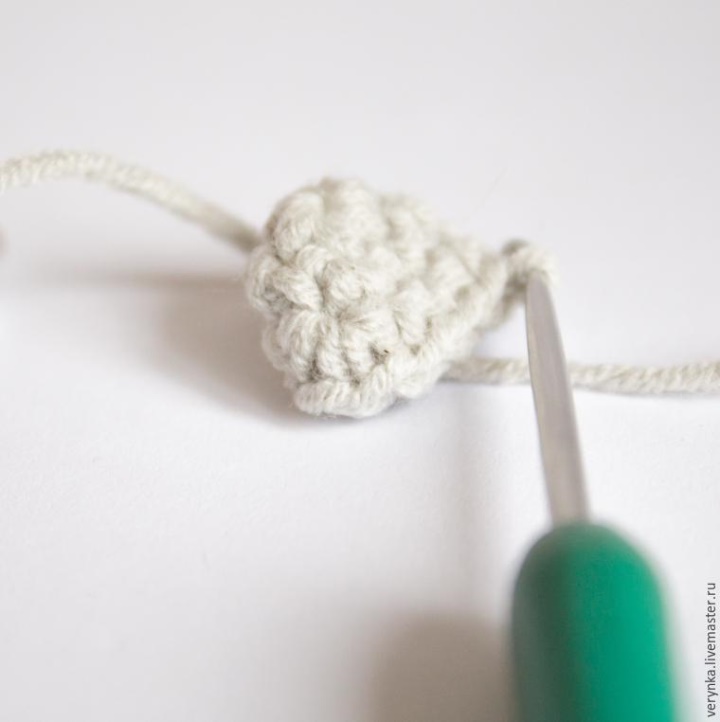 16 series: 1 sb, 3 increases, 6 sbn = 13 sb
17 series: 3 sb, 2 increases, 8 sbn = 15 sb
18-20 ranks: tied exactly 15 sb
21 series: (1 sb, 1 yb) repeat 5 time = 10 sb
At this moment, just fill the head-ball, do not stuff the body itself.
22 row: 5 times, fix and trim the thread.

Further, you do not need to knit. We now need a thread to staple parts. We twist the armor in a tube, and sew it to keep it in shape. Then sew the armor to the body.
Next, it is necessary to sew the eye-beads, fit in size and embroider the mouth.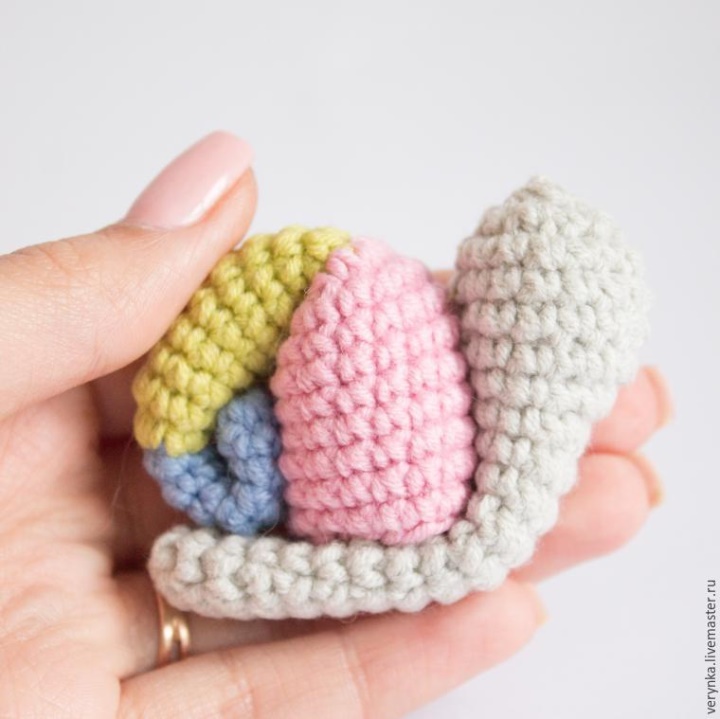 And the last stage is to attach the "horns-ears" from the thick thread. I just passed a piece of thread through my head and made knots from both sides so that the thread did not "run away" 🙂
That's all, our snail is ready to please you! I hope you were understandable and just knit for this master class. If you have questions, ask in the comments. Share the results.
Pleasant knitting for everyone and light loops! Thank you for attention.
Sincerely, Vera.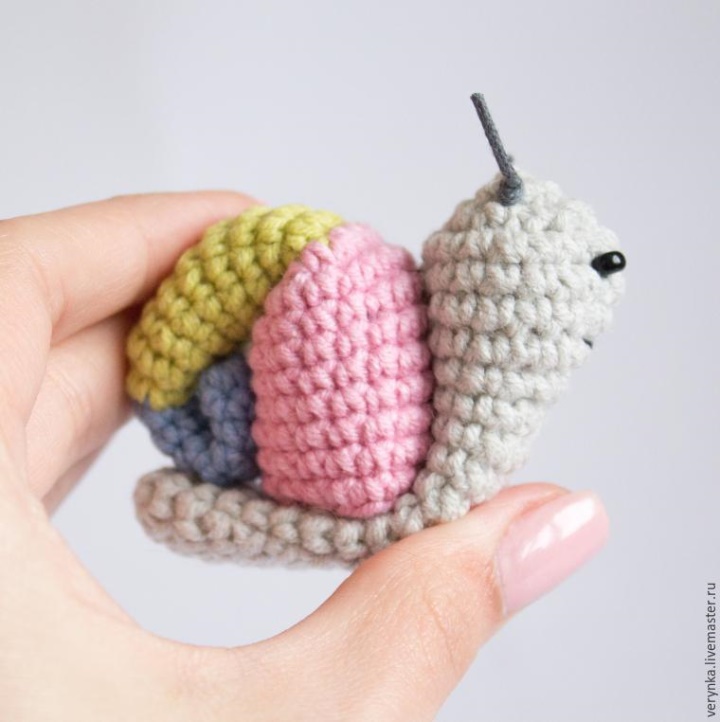 Categories: Knitting Amigurumi Patterns